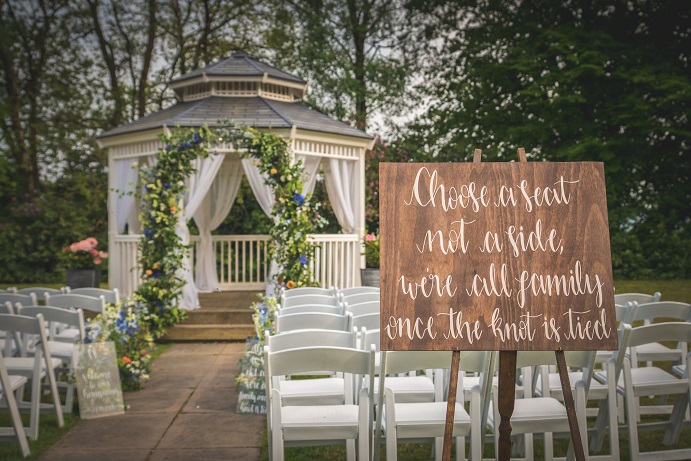 With long, light evenings and flowers in bloom, summer is the peak wedding season. In normal circumstances, to make sure you secure your perfect summer wedding venue, you'll want to book 12-18 months in advance. This summer may look a bit different, of course, and it may not be too late to snag your dream venue. Remember, though, it's easy to get swept up in the romance of a place, so there are several questions you need to ask yourself and staff. This way helps to make sure you're picking your venue with both your head and your heart.
What do you want from your summer wedding venue?
Start by picking three words that sum up what you want. Do you envision your day being intimate or raucous? The venue rustic or luxurious? Is your dream theme playful or formal?
Then, only visit the venues that – at first glance – seem to set the tone you're looking for. That's your heart taken care of. Once inside, it's time to let your head take over by asking about all the important little details.

What's your budget, and what's already included?
While talks about finances aren't the most romantic conversations, they're vital. Have a ballpark idea of how much you're willing to spend – all in – before you start visiting venues.
It's not just about how much it'll cost to hire an empty space. Ask what's included for your money. Are you so busy and overwhelmed by the process that you'd like the venue to provide the complete package – the ceremony, the catering, the flowers, the DJ? Or are you hoping to be a hands-on bride? In which case, find a venue that can serve as a blank canvas for you to decorate with bouquets and trinkets you've sourced and bought yourself.
Is there space for everyone both inside and outside?
This is a fundamental question to ask to find the perfect venue for a summer wedding. British weather can be unpredictable! If it starts to rain, is there enough space inside for your guests? If the sun is scorching hot, are there enough shaded areas outside?
Much like with your budget, have an idea of how many guests you'd like to invite before visiting a venue, as its capacity will directly affect how relaxed your loved ones feel. Small spaces are a perfect choice for intimate gatherings but will become stuffy if everyone brings a plus one. A magnificent party atmosphere can be achieved when hundreds of people fill a huge space, but the same space can feel a little cold with fewer bodies.
Is the location convenient for your guests?
It might be the absolute perfect venue for your summer wedding once you've stepped onto the spectacular grounds, but it's important that your guests don't have trouble getting there. Is there ample parking? You don't want people tiptoeing in halfway through your vows because they had to leave the car miles away. If the ceremony and reception are in different locations, make sure they're no further than 25 minutes away from each other as you don't want the celebratory mood to fall flat in transit. If the whole wedding day is taking place at one venue, is there another room for guests to gather while staff turn the ceremony space into a dancefloor? Is there accommodation nearby for those who want to enjoy the bar or have travelled from afar?
Have you asked all the little questions?
It's all too easy to forget to ask how the practicalities of the day will be implemented. You've chosen a DJ, but does the venue provide a sound system? If you're taking advantage of the sunshine with drinks in the garden, can the string quartet play outside? You're happy for the ceremony space to be transformed into a dining hall for the wedding breakfast, but how long will staff take to flip it? How will you keep guests occupied? You dream of flickering candles warming the space as dusk falls, but does the venue allow open flames? Who will be troubleshooting on the day? Make sure you meet them – you'll want to relax safe in the knowledge that you're in good hands.

Finally, make sure you visit your chosen venue a second time. Walkthrough your day as you wander around the venue – this is when any problems with these little practicalities will come to light.

Take a look at Lavender for your summer wedding venue
Our exclusive wedding packages include extra-special Lavender touches. Our superb wedding suites are steeped in individual charm and character, which open out onto stunning grounds creating an ideal setting for your wedding. 
Together, we'll help you create your perfect wedding day. Take a look at all our wedding venues.